Sports Injuries and Joint Pain: Chiropractic Solutions for Athletes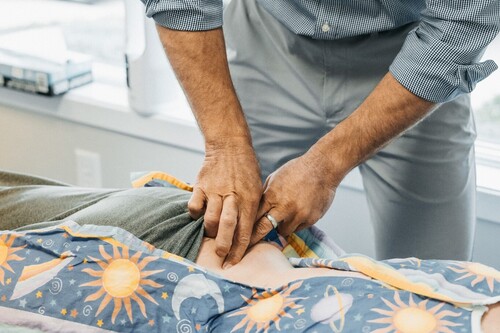 Are you hoping your joint pain will eventually go away on its own?
Do you wonder if old sports injuries are causing the issues you're dealing with today?
Want to get back into the game? Is the pain holding you back?
You may be competing now, or be a former athlete, but both old and new sports injuries can lead to joint pain that can take a toll on your life.
The Risk of Unaddressed Sports Injuries
Chronic pain and discomfort: When an injury isn't properly managed, it can lead to persistent pain that affects daily life and hinders your performance.
Reduced mobility and flexibility: Scar tissue and muscle imbalance can develop as a result of your body's natural healing process, causing joint pain and muscle stiffness.
Impact on Mental Health: The Frustration of being unable to perform at your best, paired with chronic pain, can cause anxiety and a sense of isolation which can lead to depression.
Degenerative Changes: Untreated changes can lead to cartilage breakdown, leading to arthritis and long-term joint pain.
Chiropractic Solutions for Sports Injuries
Sports injuries are not something to brush off. Chiropractic care takes the guesswork out of your healing process and allows us to craft a plan for lasting correction. Our technology allows us to see inflammation so we can measure damage, your progress, and changes from visit to visit. Full spine X-rays allow us to "look under the hood" and understand the state of your spine.
Chiropractic care provides athletes:
Pain Relief
Improved Range of Motion
Enhanced Healing
Post-Injury Rehab
A Non-Invasive Approach
Whole-Person Approach
Preventative measures
Success Story From One of Our Athletes
"Will" came to us with a low back injury from a soccer game where an opponent had kneed him in the spine. After missing practices and a game, he had enough. After working with our team and getting him started on a personalized care plan, he was back on the field with no issues!
The Bridge Chiropractic Provides Relief for Joint Pain in Ann Arbor
Are you suffering from chronic joint pain in Ann Arbor?
Don't let pain hold you back any longer – take the first step towards recovery and get back to doing what you love with our chiropractic solutions. Your journey to a pain-free and active life starts here. Contact our team today at (734)929-4060 to schedule an appointment!