Back Pain Relief in Chelsea, Michigan
Do you wake up with unexplained back pain?
Does your pain keep you from living life to the fullest?
Have you tried everything available over the counter to ease your pain? Have you seen a Chiropractor?
Working with a chiropractor for back pain relief near Chelsea, Michigan will provide you with the life you've been missing.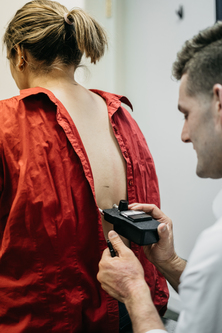 The Bridge Chiropractic Provides 5-Star Service
"I've been waiting several years for a Gonstead trained chiropractor to come to the Ann Arbor area. Dr. Mueller did not disappoint. I'm about a month into my treatment. After a comprehensive exam, x-rays and several adjustments taking into account my current health condition, I am now able to work in my large garden with absolutely no debilitating lower back pain. Now we are moving on my upper back and neck. Can't wait!"
Jenny, Google Review.
Get Back to Living Your Life - Back Pain Relief Near Chelsea, Michigan
If you're ready to start your pain relief plan, get started today by filling out our quick new patient appointment form! Have a question about our process? Complete our contact form or call the office at (734)929-4060