Surprising Ways a Chiropractor Can Relieve Digestive Pain
Do you have unexplained digestive problems?
Do you avoid going out because of your digestive distress?
Have you seen other doctors or specialists, only to receive little help for constipation, diarrhea, bloating, or stomach pain?
The answer to your ongoing health issues doesn't need to be a laundry list of prescription medications.
Digestive Issues Are Personal
Digestive issues affect everyone differently. Your digestive health can be affected by diet, stress, and other factors. Many have no clear answers to what makes things better or worse. Dealing with digestive issues is frustrating, embarrassing, and in the long run, your freedom suffers.
61% of Americans have had digestive problems within the last week alone! Conditions like IBS, Crohn's Disease, Ulcerative Colitis, Acid Reflux, GERD, and Constipation are some of the most common problems that can be managed with chiropractic care.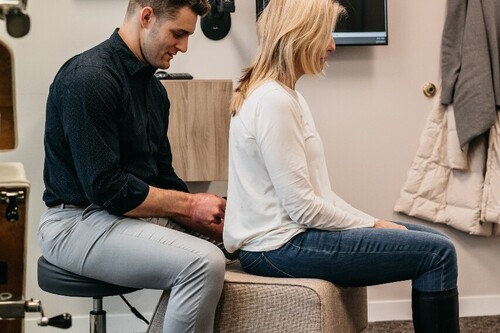 Digestion and Your Nervous System
The nervous system controls your digestive system. A functioning nervous system is the foundation of proper gut health and digestion. Special diets and supplements don't matter if your nerves can't naturally regulate your digestive tract properly.
Chiropractic care helps with digestive issues by improving the function of your nerves. When communication between your nerves and digestive system is regulated correctly, you will experience improved body function and relief.
Cases such as IBS, constipation, diarrhea, acid reflux, bloating, and GERD can all be alleviated with chiropractic care. More serious diagnoses like Ulcerative Colitis, Crohn's Disease, and severe cramping can be managed with a personalized care plan explicitly curated to your experiences.
Real Success with Chiropractic Care
"My first chiropractic experience was at The Bridge with Dr. Mueller. I had been having stomach/gut issues for several years (unable to eat certain foods, IBS, and discomfort). After five months of treatment with Dr. Mueller, my stomach/gut issues are 99% resolved. The Gonstead chiropractic method and Dr. Mueller are wonderful! The atmosphere in the office is very calm and comforting, and Tracey does an awesome job at the front desk! I highly recommend The Bridge Chiropractic and Dr. Mueller!!"
Marilyn K.
Personalized Chiropractic Care Improves Digestion in Ann Arbor
Are you tired of feeling embarrassed by your irritable bowels?
If you miss being able to eat the foods you love without discomfort, chiropractic care can be your solution to poor digestion in Ann Arbor. Stop changing your diet when your nervous system is trying to tell you what's really going on.
Contact us at 734-929-4060 for long-term relief.